From the runway to your wardrobe, this winter's top trends in jewelry fashion are fun, flirty and fabulous!  Traditional elements such as diamonds and pearls take on a whole new personality when combined with edgy lines and alternative natural materials.  Here are a few helpful tips for creating the most eye-catching impact with these stunning winter jewelry trends for 2017!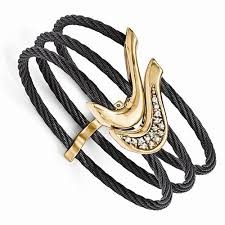 Symmetry Is Sooooo 20th Century!
If you want to make a head-turning statement with your winter jewelry, asymmetrical lines are the way to go.  This slightly "off kilter" look is easily accomplished with dramatic – yet different – earrings, or even just a single statement earring, and very clearly states, "Here I am, and I'm a true original".  By embracing this asymmetrical jewelry trend, you'll be blazing a trail for others to follow with confidence and total fashion freedom.
Raw Beauty
Natural elements in their raw and unadulterated forms have arisen on the jewelry scene in a most dynamic and dramatic fashion.  Uncut semi-precious gemstones, wood, metal… all of these raw elements bring an edgy visual appeal to your winter jewelry ensemble, especially when paired with more refined and traditional jewelry elements, such as diamonds, pearls and polished gemstones.  The mixing of these two distinctly different styles – refined and raw – works to create a look that's simultaneously bold and enigmatic… the perfect way to keep them guessing!
A Timeless Classic in Modern Times
There's certainly nothing new about statement pendants, but this timeless classic makes a different kind of statement in modern jewelry trends, and it's all in the way you wear it.  Where once the fashion statement was all about the pendant, itself, today's statement is more about the presentation thereof.  Think layered necklaces and alternative jewelry elements.  You also might consider converting a favorite statement pendant into a brooch for maximum versatility, allowing you to incorporate the desired style element into an even wider array of fashion applications.
Over-sleeve Bracelets
Just because we might be wearing long sleeves doesn't mean we can't still make a fashion statement with bracelets.  This winter's top jewelry trends encourage big, bold, creative statements with stacked bracelets worn over sleeves in both casual and formal environments.  The stacked bracelet trend allows you to express our own personal style with multiple bracelet styles and multiple jewelry elements combined into a single statement piece.
However you wear it, make it your own with these amazing winter jewelry trends!