April showers bring May flowers, as the saying goes, but spring time in the fashion world also means it's time to break out your favorite seasonal jewelry, and even shop for some fun, new spring jewelry pieces to brighten up your current collection.  Just as spring time breathes new life into nature,
2017's favorite spring jewelry trends
will bring new sparkle to your accessory wardrobe.  Spring is for bling, after all! Brighten Up! There's no better way to shake off the winter blues and welcome the fresh, new brightness of spring than to break out your best and brightest colored gemstones.  Think of your favorite spring flowers in sparkling pastel pinks, lavenders and yellows, or the return of the clear blue sky filled with lots of sunshine – which, of course, really sets off the brilliance of those gemstones!  Use your favorite elements of the season to inspire your own, unique spring jewelry style, filled with color and sparkle. [caption id="" align="aligncenter" width="640"]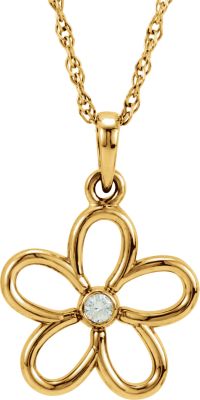 Lighten Up!
[/caption] The light and airy feel of the season inspires us to "lighten up" our jewelry fashion, too, with flowing layered necklaces replacing winter's heavier chains and pendants, and stackable rings and bracelets worn in a daintier and more whimsical fashion.  Arm cuffs and ankle bracelets return to the fashion scene, as the warmer weather allows us to bare our arms and legs once again, creating an even greater opportunity to express individual style through your favorite spring jewelry trends.  And lightening up doesn't necessarily mean wearing
less
layers and stacks – just slightly more delicate pieces.
Loosen Up!
Spring is the perfect time to loosen up on those style trends that kept us feeling restricted all winter, and that applies to your jewelry just as much as your wardrobe.  As necklines get lower, necklaces can dare to be longer and more free-flowing.  As pants and skirts get shorter, ankle jewelry can be allowed to dangle a bit.  And who doesn't love the musical sound of bangle bracelets?  All that fun and flowy jewelry that was either hidden or continually tangled in our winter ensembles can now be free to sway and swish in all its spring time fabulousness!
Show Off!
The best part about this year's jewelry trends is the emphasis on personal style.  There are no hard and fast rules to dictate what you can and cannot wear, either alone or together.  Choose your favorite spring jewelry elements and put them together however you like – show off
your
style,
your
way!