While it's true that, for most of us, looking at super models strutting down the runway with their glamorous and exotic fashion ignites a feeling akin to that of trying on swim suits at the beginning of the summer season, that doesn't mean that we can't take a little something from the world of high fashion and make it our own.  Our true beauty lies in our individuality, after all.  And this
summer's jewelry trends
encourage us to explore that individuality – and to show it off in bold and daring style!
Pendants that Pop
[caption id="" align="aligncenter" width="496"]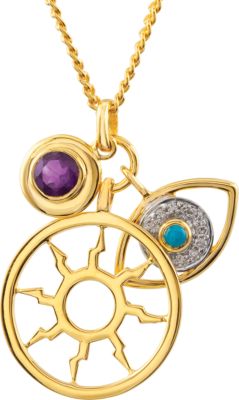 Mimosa statement Pendant
[/caption] This summer, make a powerful statement with unique, showcase-worthy pendants.  The bigger and brighter – and more original – the better.  And this year, wear them long.  Not only is a long, swinging pendant an eye-catching piece of jewelry worthy of conversation; it's also a perfect opportunity for you to incorporate your individual style into any outfit in a "front and center" sort of way.
Crazy Cool Cuffs
Cuffs are back in a big way.  Ear cuffs, arm cuffs, wrist cuffs… wear them big and bold or stack and layer multiple elements to achieve a daring and fashioinable cuff effect.  Summer is the ideal time to indulge in bare arm adornments, so get creative and show off your style in a bold and brilliant statement that's sure to get noticed.
Back to Nature
The natural element trend in jewelry has been gaining traction for several seasons now, and this year raw stones and other natural elements have secured their place among the favorite fashion jewelry trends of 2017.  Semi-precious gemstones in their natural, unpolished state, sparkling, healing crystals, agate slices… these beautiful, natural elements create a very earthy fashion statement when combined with some of Mother Nature's other gifts, such as leather and wood.  This trend can also be dressed up with accents of gold, silver, and other precious metals for a more refined and dramatic look.
Make it your Own
Perhaps the most exciting thing about this
summer's best trends in jewelry
is the emphasis on being ourselves and expressing our inner beauty in whatever way makes us feel the best.  There is no hard-written rule to limit what we should and should not wear, but rather an encouragement to be bold and fearless in our fashion, and to rock the look that bests suits each of us, individually, for a true sense of self-expression through jewelry.