Van Scoy Diamonds Presents Celebrity Bridal News Galore
Catt Sadler Sports Tacori Engagement Ring and Kristen Cavallari Engaged Once More
[caption id="" align="aligncenter" width="300"]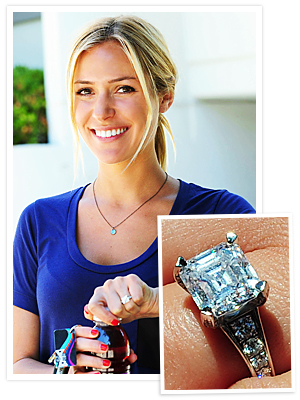 Kristin Cavallari[/caption]
We
spotted
Kristin Cavallari
just a few weeks ago, capturing her arrival to the
Tacori 'Royal T'
celebration recently bith gal pal, newlywed
Nikki Reed
.  The on-again, off-again relationship with her beau is seemingly very much ON AGAIN, as Cavallari has been photographed on several occasions recently, proudly wearing an incredible
engagement ring
from
Chicago Bears quarterback, Jay Cutler
. The engagement between these All-American celebrities was initially called off during the Summer of 2011. Yet, somewhere between July and December the young couple decided to call it back on. To the beautiful
celebrity couple
, we wish nothing but the very best in their life...together! [caption id="" align="aligncenter" width="485"]
Jay Cutler and Kristen Cavallari - Charley Gallay/Getty Images[/caption] Now, don't forget about our favorite host of E! Entertainment Television,
Catt Sadler
. A literally, 'Just Married' Catt Sadler is now sporting an elegant platinum TACORI eternity band as a symbol of her love and devotion to her new Husband and U.K. film producer, 
Rhys David Thomas
. The 4.0 carat Asscher-cut
diamond eternity band
by
Tacori
is a timeless and classically designed ring, reflecting each beam of light in a brilliant shine with adornments on the side of
Tacori's signature crescent pattern
. Follow Catt Sadler on Twitter for more Celebrity Newlywed News:    http: /twitter.com/#!/IAmCattSadler Cat Sadler and Rhys David Thomas Cat Sadler
Natalie Finn

Reports:

"She and Thomas swapped vows in a candlelit ceremony in their suite at the Palazzo on Oct. 23. But even though their engagement was on the down-low, Thomas still made quite the statement: He presented Sadler with a four-plus carat Tacori diamond ring, set in a diamond-and-platinum eternity band, that he helped design." Read more: https://www.eonline.com/news/surprise_es_catt_sadler_married/278862#ixzz1geL30XUQ
A very special Van Scoy Diamonds Congratulations to the Newlyweds, Rhys David Thomas and Catt Sadler!