There are a million details that go into putting together the perfect wedding.  And, as every wedding planner knows – and every bride-to-be soon finds out – it's all the little things that make the big day a wondrous event to be enjoyed and remembered by all.  Among these little details is the bridal jewelry that will be worn by not only the bride, but the entire bridal party.  Here are a few things to consider when choosing
the perfect bridal jewelry
for your big day. [caption id="" align="aligncenter" width="300"]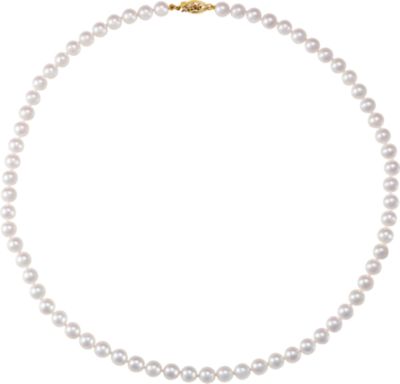 Akoya Pearl Necklace[/caption]
Tradition
In some families, the bride's jewelry is determined by tradition.  This is especially true if heirloom bridal jewelry exists within the family, and for many brides it is accepted as an honor to wear a grandmother's pearl jewelry or mother's special locket as a part of the bridal jewelry ensemble.  Family tradition does not have to impose limitations on modern style, however.  With a little creativity and the help of a jeweler, heirloom bridal jewelry can be modified, and even its primary elements repurposed, into a more modern style while still representing the importance of family lineage and effectively creating a brand new heirloom piece for generations to come.
Style
If your bridal jewelry is not predetermined by family tradition, you have virtually unlimited options in the area of style.  The style you opt for in your wedding jewelry, as well as that jewelry to be worn by your bridal party, should be based on personal style preference as well as the overall style or theme of the wedding itself.  Is your theme formal?  Casual?  Country chic?  Chances are you've chosen your bridal party attire based on these elements, and your bridal jewelry should be selected accordingly to complete the overall look for your big day.
Budget
Budget is an important factor for the vast majority of couples, and one that should be determined in advance of your bridal jewelry shopping to ensure you stay within the designated parameters.  If you're planning to purchase the jewelry for your wedding party as bridesmaids' gifts, that makes the budget you're working with per piece even more important, though bridal jewelry is a fantastic gift idea, as it gives your bridal party a special memento of the event to cherish, as well as showing sensitivity to their own potential budget concerns.  Weddings can be expensive, after all – even for the members of the wedding party.  But once you really start looking, you'll discover that multiple styles of beautiful bridal jewelry can be found within virtually any budget range. When it comes to planning your perfect wedding, it's the little things that make the big day one to remember!