Jewelry never goes out of style. The designs that are already evergreen from yesteryear are pieces we treasure. We often celebrate hand-me-down diamond jewelry as a symbol of elderly blessings. But what about when the tables turn and you have to hand down Jewelry to the future generations? Really good jewelry is something that young people will always appreciate. Be it
diamond rings
or necklaces, jewelry is passed down generations. We need to keep that in mind while buying ours. Here are 10 contemporary jewelry styles from 2018 that look like more than just a fad:
1. Diamond anklets
Necklaces, bangles, and diamond rings are all too mainstream. Some of it is part of the tradition. But anklets is the new trend we could set, or bring back from ages before the ring became the standard evergreen piece of jewelry. The best thing about anklets is that they are easy to make in an adjustable size, just like necklaces. It can run down in your family for ages because it is contemporary today. [caption id="" align="aligncenter" width="400"]

Diamond-Cut Cable Heart Anklet[/caption]
2. Triple ring/band/bangle
The millennials always find a way to incorporate every good thing into one thing and make it a simpler yet grand affair. Combine the promise ring, engagement ring, and the wedding band into one three round spiral ring. This is contemporary, stylish and the trend is likely to live into the future. [caption id="" align="aligncenter" width="352"]
Triple Bangle 8" Bracelet with Heart Dangle[/caption]
3. Nail embellishments
Diamond droplets on nails is a new trend that might be inconvenient for many. The trend is however catching on with the nail art fanatics.
Image Source:
stylishzoo.com
4. Eyebrow ring
As the generations become more accepting towards new trends, youngsters are investing in unconventional diamond jewelry, like the eyebrow ring.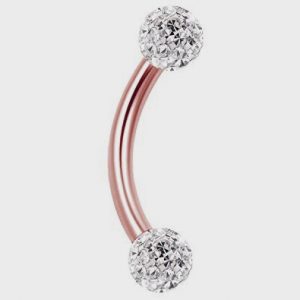 5. Open ring pendants
Circular and heart shapes are mainstream now. The new thing is the open heart or the open oval shapes for pendants.
6. Broad bracelets
Unlike earlier, when diamond jewelry used to be sleeker and junk jewelry chunkier, millennials are going for chunky diamond bracelets.
7. Single earring
This trend was long due. 2018 is finally seeing more women wear a single piece of chunky earring on just one ear.
8. Tiny stud set for the other ear
Lining up the other ear with minuscule diamond studs is a trend that is coming back.
9. The nose ring
This old tradition is coming back stronger as a contemporary style element, mostly on the right side of the nose this time.
10. Studded diamond rings
Contemporary designs are shifting the focus from the diamond to other stones on the diamond rings.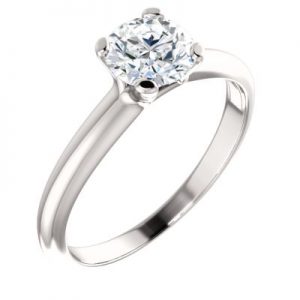 If you are planning to buy some jewelry this year, keep the above trends in mind, and you will have an evergreen piece that you will treasure for long.