It's that time of year… when love is in the air and marriage proposals abound.  If you are among the lucky few (or more accurately, thousands) to find yourself in that position so coveted by the lonely heart's club at this time of year – the position of preparing a Valentine's Day proposal to your beloved – then there are a few important things you should know before purchasing the engagement ring.  It's got to be THE one, after all – just like she is.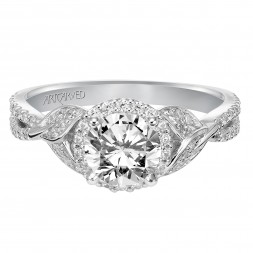 Engagement Rings 101: Intro to Diamond Quality Standards
With a little basic knowledge of these four industry-recognized diamond quality standards – collectively recognized as the "4 C's" – you can quickly and confidently narrow your search for that perfect engagement ring, and rest easy knowing that you got the best value for your money.  Here they are:
Carats – This is the one we're all familiar with.  Carat weight simply refers the size of the diamond.
Cut – The ideal shape and high quality of the cut maximizes a diamond's inherent beauty and brilliance.  For example, more facets = more sparkle.
Color – Diamond color is evaluated on a scale ranging from clear to brown.  The higher the letter grade in this category, the more clear and beautiful the diamond.
Clarity –  A diamond's clarity rating refers to the presence (or absence) of flaws in (or on) the stone.  Flawless diamonds of significant size are rare – and pricey – but small inclusions are typically invisible to the naked eye and have little to no effect on an engagement ring's beauty.
Engagement Rings 102: Practical Applications
So, now you've acquired a little basic knowledge of diamond quality standards.  Now it's time to learn how to apply that knowledge in your search for the perfect Valentine's Day engagement ring.
Carats – Contrary to popular belief, bigger isn't always better in the world of diamond jewelry, especially if you're on a specified budget – and who isn't?  When shopping for a diamond solitaire, be sure to evaluate the quality of the stone in conjunction with its carat weight to ensure the best value and diamond quality for your budget.
Cut, Color and Clarity – The right combination of high quality cut, color and clarity is much more important than carat weight for several reasons.  These are the factors that determine a diamond's beauty and brilliance, regardless of its size.  Invest in the highest quality rating your budget allows in these areas, even if it means sacrificing a bit of size.  When paired with the right ring setting, these quality factors can even make a diamond solitaire appear larger than it actually is!
Now you can make this a Valentine's Day she'll never forget when you present her with the engagement ring of her dreams!