An engagement ring is the most expressive form of jewelry. You have to buy the right one for your partner and you. A diamond in the center and studs around it on the band is the most formulaic engagement rings of all. We are here to suggest an option that is just as pretty but more pocket-friendly.
Now doesn't that suit your part and you, too?
Moissanite is a scarce mineral and very rare. It is exclusively grown in labs and therefore, moissanite rings are a great way of saying that your love for them is pure and unhinged. It is a manufactured crystal made composed of the compound silicon carbide (SiC), which is also used in LED light bulbs.
Here are the reasons why Moissanite rings are, in fact, a great option as an engagement ring.
Capable of withstanding daily wear
Moissanite is one of the hardest substance on earth according to the Mohs Scale of Hardness- it is scored 9.25. Moissanite is often compared with diamonds for its similar appearance. The mineral synthesized in labs has the potential to compete with diamonds which score 10 on the Hardness scale.
Moissanite is a Unique Jewel
Moissanite is a separate and different jewelry option from diamonds. The truly beautiful thing about moissanite gems is the stone's radiance and brilliance. Moissanite engagement rings have over double the radiance of diamonds, appearing more sparkly. They reflect many more colors of the rainbow than any other jewel. They blaze with multiple colors and a lot of flashes.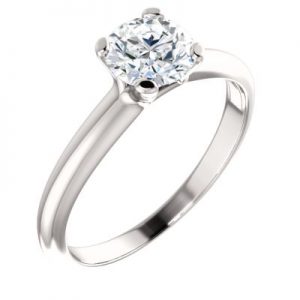 However, this much greater radiance does make them look different from a diamond.
An economical and environment-friendly option
Now, the Moissanite is quite affordable. It is typically priced at between $300 and $400 a carat. Anything less than this is usually a rip-off or fake. You get a diamond looking gemstone at a far better price.
Moreover, as they are a manufactured gemstone they are environment-friendly. These gems don't harm the harm nature by mining and therefore, do not have legal implications.
Brilliance in color
Moissanite rings have a yellowish to grayish color which makes it a close replacement for diamonds, too. They have a purity that is identifiable for its own but also manages to be used as a gem in place of diamonds.
We love the idea of moissanite rings for engagements for its beauty and pricing- hard to co-relate. If you would like to explore moissanite stone as an engagement ring option, visit Van Scoy Diamonds in West Wendover Avenue, Greensboro, North Carolina. You can also learn more about the gemstone's history, chemistry, appearance, etc on their website- www.vanscoydiamonds.com/