The corporate world leaves little room for second chances. Making a single mistake could mean blowing up all over your collective career dreams. Once you 'blow up', you can't just pick up where you left – you have to start all over. One of the most important aspects of a successful career is making a good impression. Not only is it important to look good but what you wear should reflect strength, determination and a personal brand image. Sound easy?
Well, however clichéd it may sound, true success does not come easy – if it does, it probably won't last. To be truly successful, you have to keep reinventing yourself and how you dress and accessorize plays a big role in building your image.
Now where does jewelry fit into all this? If you have paid attention, you must know that there is a slight distinction between the regular everyday jewelry and jewelry appropriate for the workplace. Believe us, with the right confidence and will of steel, you can pull off any item of jewelry at the workplace. However, for most of us (especially when we are just starting our careers), it pays to pay some attention toward workplace etiquette and suitability.
Kat Griffin, founder and editor-in-chief of Corporette, who had to learn the hard way how to dress up for work over a long hit-and-trial saga at a conservative Wall Street office has some very concise and crucial tips for you.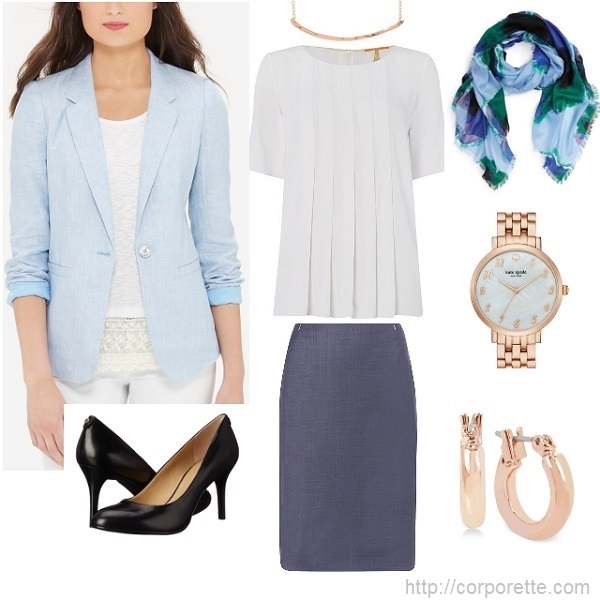 "– Noise is never good.  Clinking bracelets, tinkling earrings… if anything you're wearing makes noise when you type or when you're walking down the hallway, then think twice before buying it for or wearing it at the office.  I always think of that scene in Working Girl when Melanie Griffith's character is wearing way too many clanky bracelets.
– Less is more when you're just starting out, at least in terms of quantity.  Get 1-3 pairs of earrings in good metals (for your own comfort and health) and build from there.  Think diamond or pearl posts, or very small hoops that "hug" your ears — I often find the huggie earring to be the most comfortable for taking phone calls.  I often think about that quote about how you should take one accessory off, every morning, before leaving the house — I tend to wear no more than 3 at a time for work, maybe 4.  (Watch, earrings, necklace.  Ok, fine, 4: my wedding rings.)
– Avoid bling.  A few weeks ago I sloppily wrote about not liking diamonds for the office.  Clarity was not my friend that day, what can I say.  To be clear now: I have no problem with diamond studs, diamond huggies, diamond rings (engagement rings or tasteful right-hand rings).  But I think dangly diamond earrings are inappropriate for the office, diamond-bedazzled watches, or other cocktail-type diamonds.  (To be honest, we're probably not talking actual diamonds here but faux look-alikes on cheap jewelry).
– Wear a watch, at least when you're just starting out.  It doesn't have to be an expensive watch, but I think it does subtly communicate to people that you're responsible, aware of time, and other good traits.
– Have a nice-looking set of pearls (whether faux or real) for those days where you don't know what to wear but want to wear something.  They look nice on interviews, and I always seem to notice other women wearing them at major networking events like conferences and gala dinners.  You will get use out of them.  If you're uncomfortable with pearls, there are many solid-looking but basic gold or silver necklaces out there.
– Don't be afraid to show personality, but don't let it distract from the professional traits you want to show at the office.  For example, some of my jewelry is fun, some of it is edgy, some of it is a little wacky — I tend to try to have more fun by mixing colors (e.g., a purple dress and a green necklace) than I do in wearing aggressive pieces that don't go that well with a working wardrobe anyway.  I took pictures below of stuff I've worn to the office, but maybe I should take pictures of what I own that I wouldn't wear to the office — think my giant pink neon bib necklace from Kate Spade, my 4″ long Jill Platner infinity pendant, my large spiky glass red/orange ring, some of the pieces of vintage jewelry that are meaningful to me (the blue glass triangle pendant, a weird olive mermaid pendant), any of my cocktail rings that are more than 1″ long. Do feel free to experiment with color and style.  Some thoughts on different things you can try that are outside the fairly conservative advice above:
statement rings — avoid bling and go for quality, but I still think there's a wide variety of rings that might make a colleague say, "wow, cool ring."
stackable rings — you find these with different color gemstones, different initials — make a stack of rings that are meaningful to you.
signet rings — I think I remember Nina Garcia saying in some magazine that she likes to wear a gold signet ring with her family's crest, on her pinky finger. As someone who doesn't have a family crest (at least as far as I know), I always liked the idea of putting a small bird on a signet ring, since my maiden name means "little bird" in German.
short colorful necklaces — you can find these at mall stores, on Etsy, at museum stores, at mall stores…
a simple pendant necklace — if you can go for a good gemstone, or at least something meaningful to you.  I bought a lot of my pendant necklaces on great sales at Macy's.
layered pendant necklaces — this takes a bit of thought but can be a very delicate but interesting look when done right.
opera-length necklaces — these aren't very "in" right now, but I would argue that they're a classic look.  Especially if you can find them made from simple beads, these opera-length necklaces aren't too expensive but they can be worn in a lot of different ways — worn 3x around the neck for a shorter look, doubled around the neck (worn as a choker and a longer necklace), doubled around the neck (for a mid-length necklace), or worn long and tied in a knot at the bottom. I generally think of them as being longer than 36″.
brooches — these tend to be very trendy some years and not in other years, but I think they're a classic look as well.  To be honest most of my favorites are vintage ones that I picked up through the years at flea markets.
– Don't fall into a rut.  I've noted it in my 360 Review of Linda from Better off Ted, and guest poster Emily Ward-Dickerman noted it in her recent 360 review of Mack from The Newsroom — especially with necklaces it's really easy to fall into a rut.  I've found that I tend to grab what's out — so if you make a point of putting your jewelry away every night, you can keep it fresh.
When I was working my go-to basics were my diamond huggie earrings (which I honestly don't think were that expensive) or tiny sterling silver huggie earrings, my stainless steel watch, and my pearls.  I would intersperse those with a few other earrings, a variety of pendant necklaces, and a variety of statement necklaces.  I've taken a few pictures below of my favorite pieces for work — I'm not saying this is an amazing collection of jewelry, but I think it can be helpful to see concrete examples of what's worked for one woman.  It's funny, looking at them the same colors repeat:  white, blue, red, which is a bit of a surprise — I hadn't intended that!  But I know that blue and red both flatter my coloring, and they're easily mixed and matched with other pieces of my wardrobe."
You can read Kat's full article here.
While it's diligently helpful to learn from a fellow corporate office-goer, you may also want to hear from the other end of the spectrum – the fashion industry.
Distinctive jewelry designer Katie Thompson who has a flagship store called KT Collection Jewelry on the Upper West Side of Manhattan, NYC also recommends you add a little personality to your workplace jewelry collection and not be afraid to try new things. Watch her explain and suggest work-appropriate jewelry styles in the following video.
Taking a completely different approach to office jewelry, Noelle Sciacca from Mashable has quite a flair for novelty! Here she talks about how hard it's getting to tell office supplies from jewelry in light of the tremendous evolution of the fashion industry.
"1. Caution: hard hats required
A contractor's tool belt is now a wearables wonderland.
Reinvent the statement necklace with a gold plated screw and drill head strung together on a delicate chain. Twist harsh nails into a stunning bracelet or unexpected diamond studded ring. Talk about the perfect blend of sassy and sweet.
To fully embrace the trend, pair these pieces with earrings made of nuts and bolts and other tool box treasures.
"2. Workin' 9 to 5
Office supplies are breaking the rules, transforming basic push pins and scissor shears into edgy ways to fill your piercings. 
The single staple earring is perfect for the gal with multiple holes in her ears. Insert the spikes through adjacent piercings in one lobe and wear a simple post in the other for a modern, unbalanced vibe. 
Fasten paper clips to everything. Sure, this workplace gizmo will keep your files together but it will also spice up your lapel, wrists, fingers and neck. 
These sharp objects are HR approved. Mostly."
Read the full post here.
Noelle Sciacca brings up a good point here – people (especially millennials) find it easy to disregard conventions when it comes to fashion. No longer is a basic push pin or a pair of scissors confined to the toolbox. Modern fashion incorporates even the most mundane of items and transforms them into high-end fashion. Well, while you are certainly free to wear a paper clip necklace to work if you want it, we can't comment on how work-appropriate it really is till the trend catches on.
Meanwhile enjoy the vast collection of work-appropriate jewelry at Van Scoy Diamonds